As some may have already seen, I have been allowed to hang my flower pictures at Tai's Restaurant at Frosta Center in Höör (in the middle of Skåne). I would like to extend a warm thank you to Anh and Thanh Le for wanting to provide their former empty walls and give me that opportunity.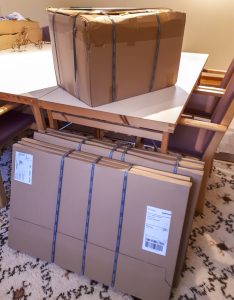 A few weeks ago I received a delivery. I had ordered a selection of my flower photos as canvas prints. Exciting! (It took a while to unpack all the boxes ;-))
As a small presentation, I thought I would tell the "story" about the origins of the various images.
Morning dew
When I went on my usual walk through the garden one summer morning, I saw these three roses sitting in a bunch together. The dewdrops glistened and sparkled on the petals. The motive was given and of course I picked up the camera.
Flos Batavica
A few years ago I went on a flower trip to the Netherlands with Sjöbo garden association. We visited nine different gardens during the five days. Both private and public gardens. When we arrived on day four at "De Tuinen van Appeltern", The Gardens of Appeltern, we spent the whole morning walking around the large garden. It was so big that we were getting lost there several times. The park is built on an area of 15 hectares and it consists of approx. 200 small model gardens.
As I walked around all these little gardens, I ran across this brownish-red flower. I always try to find out the name of the flower I am photographing – preferably also Latin, which is the language that is universal when it comes to naming animals and plants. But in this case, I searched for a long time for a nameplate for this beautiful climbing plant without being able to find one. The name of my painting was Flos Batavica, which is supposed to mean Dutch Flower in Latin.
Please help me. If anyone who see my picture of this flower know a name for the plant I would really appreciate a comment about it!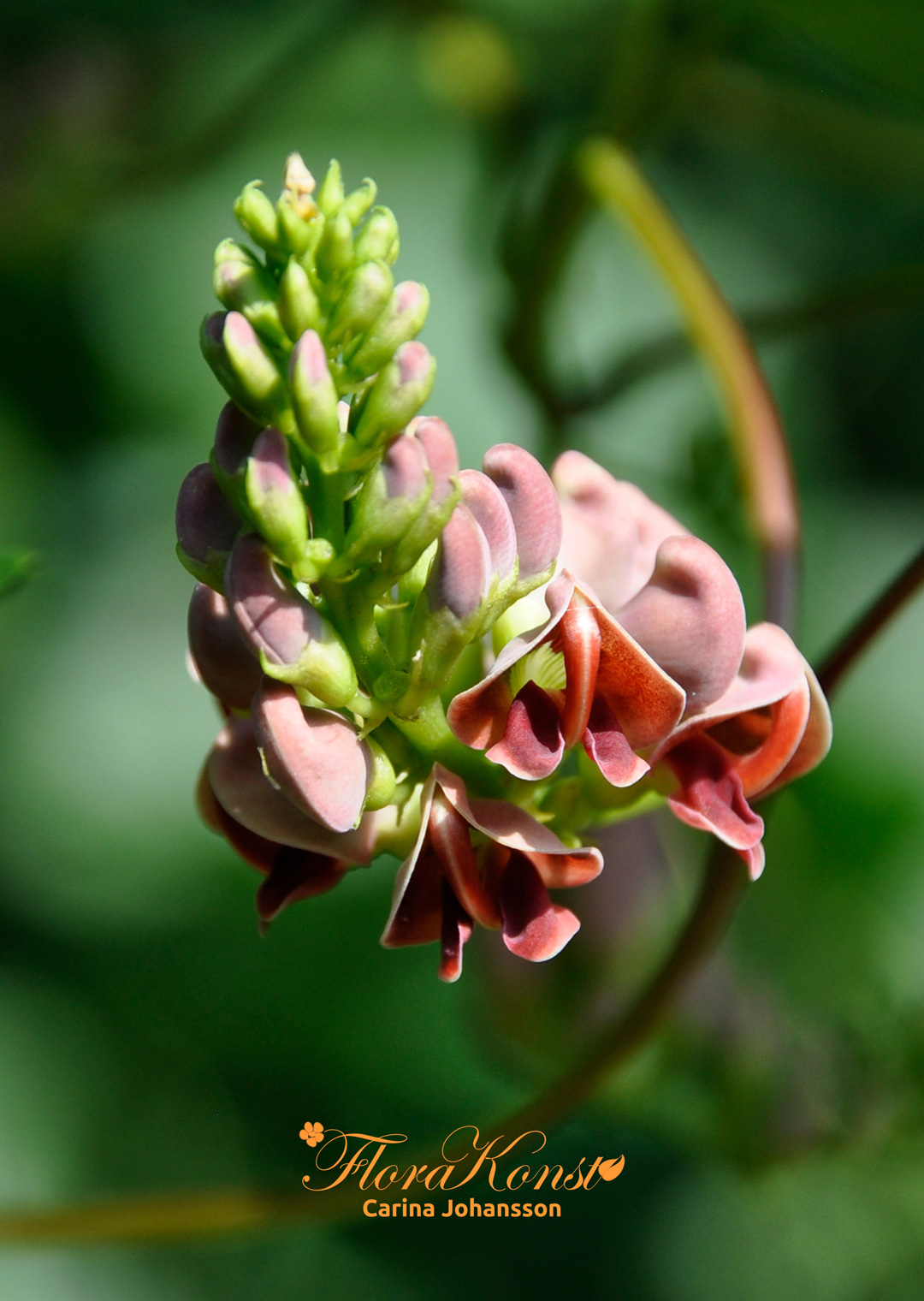 Petit Fleur
This is one of my many mini bouquets. Already several years ago, I was fascinated by the richness of detail you can see in small flowers. I got an idea that I would like to show "The Greatness of the Little things". This requires that you really take the time to look closely at greenery that is otherwise easily passed – sometimes even crawling on all fours.
Since I have always been happy to pick flowers and fill the whole house with these, I started to "tie" small bouquets of the minimal plants. Over the years, I have also collected several miniature vases, which were suitable containers for the mini bouquets.
Great and tiny
This picture is also a photo of a mini bouquet. When I started showing my pictures on the small bouquets of flowers, I got some questions and comments about the actual size of the flowers. To show more easily that these are actually very small flowers and bouquets, in this case I took a normal-sized Dahlia flower and placed it next to the object I was photographing.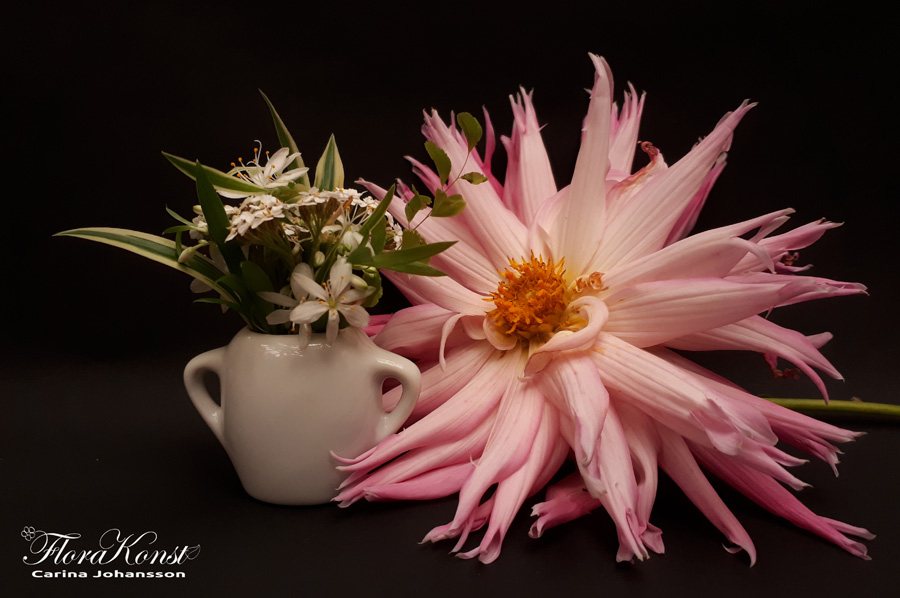 The lady of roses and Camille
These two pictures are photographed on the terrace stairs out in the garden on a beautiful summer day. I wanted to try to create a still life photo.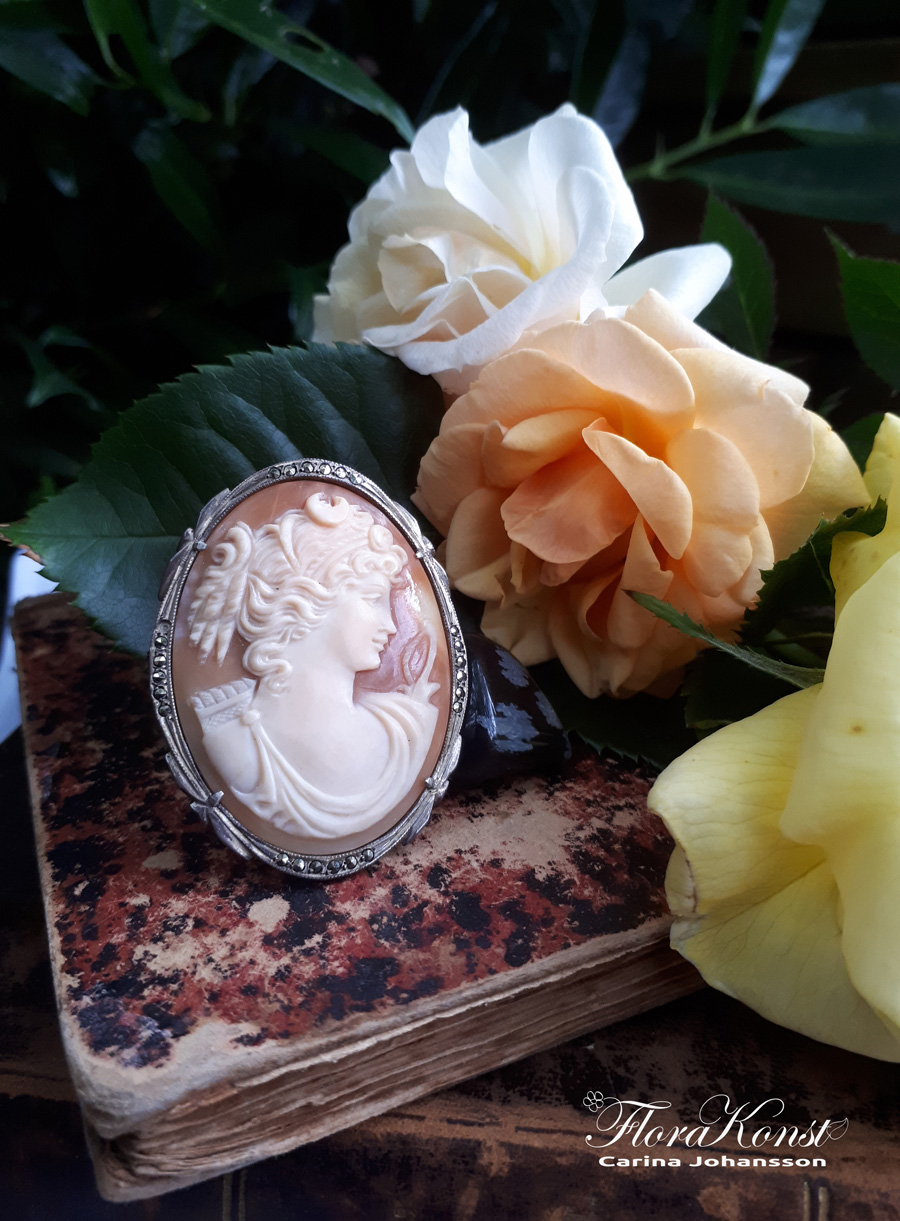 With a few different kinds of roses, a couple of old books with beautiful binders and a nice old brooch I received many years ago from my grandmother, I set up my installation. The natural light out in the shade of our Antarctic Beech was perfect and I got these photographs.
Fireworks
In the last couple of years, I have started to "blomsterpilla" (Swedish), or as I like to call it – Flower Create after participating in a workshop with Hanna Wendelbo, more about this in this post.
I got the idea for this flower picture from Hanna's logo for the Swedish Radio program "Summer in P1, 2020". I collected plant material in all the colors of the rainbow and laid it out on the white tablecloth and the result was a real flower explosion or a firework of colors.
Apple dream
This flower picture is created in the autumn. It consists of Rabbit-foot clover (Trifolium arvense) which is a late summer flower that can be found on dry meadows or in the ditch edge in Eurasia. It gives a slightly mysterious impression with its woolly and soft flower. In the wreath – yes, it is actually only a small part of a laid out wreath that has been photographed – there is also hydrangea. In late summer, our tasty little apples have also ripened and it was the apple that gave the picture its name.
Flowermandala 1 and 2
These two pictures are variations of the same photo of a flower laying. When I was little, I remember the first time I came in contact with a kaleidoscope. I was at a classmate's house playing and she had something that looked like a tube where you looked into one end and saw exciting patterns. If you then turned the tube, new intricate shapes and patterns were formed with the help of mirrored plastic or glass pieces.
The pictures are in other words a photo taken of a laid out flower mandala which I then manipulated with a kaleidoscope app on the phone. It is possible to get very nice patterns in this way. The only negative with the "app" is that you can easily spend way too much time on this pleasure!
Harvesting wreath
This flower wreath is actually the same as you see part of in the picture "Apple dream". It is possible to reuse or create different images just by photographing from a different angle 😉 In the wreath I have collected the autumn plants, fruits, nuts and berries – a real harvesting wreath!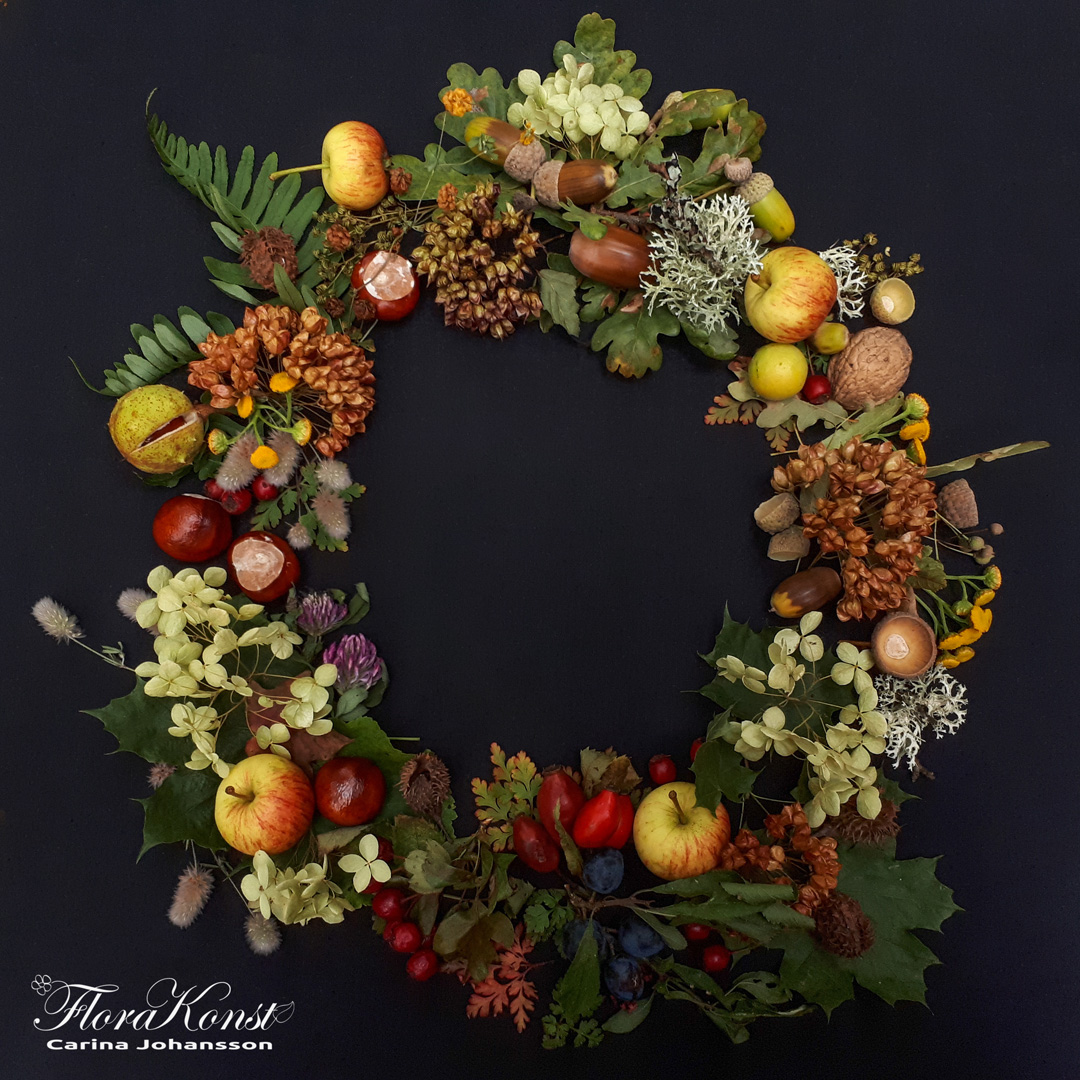 To really revel in the word first, I also want to show the first little film I made on the theme of FloraKonst. You can also watch the film in my newly started Youtube channel. Hopefully there will be more material in the channel in the future …