In a sense, you could say that FloralArt just today celebrates one year. The reason for this is that there was an event in Malmö that I visited just today (March 6) a year ago (2020). The event was a fair called "Home & Outside Living".
I had long been looking forward to visiting the fair as my major source of inspiration, Hanna Wendelbo, would keep Blomsterpill-workshops there. After buying her book – Hannas blomsterpill & mönsterlek – and reading it from cover to cover, I had one goal in mind and that was that I wanted to learn how to lay flower mandalas by the master herself. Said and done, on March 6, 2020, my partner and I boarded the train to Malmö to participate in the fair.
The Workshop
There was a lot to see and shop at the fair, you could probably find most things you need in the garden here. But when the clock struck, I was first on site for today's workshop with Hanna. She showed me how to take apart the flowers sponsored by the Swedish Prison and Probation Service in Tygelsjö. When you had divided a geranium flower in each petal separately, it was time to lay them out on the black canvas in a mandala pattern. Beside English geraniums, there were foamflowers, forget-me-nots and various primulas available for the creative creation.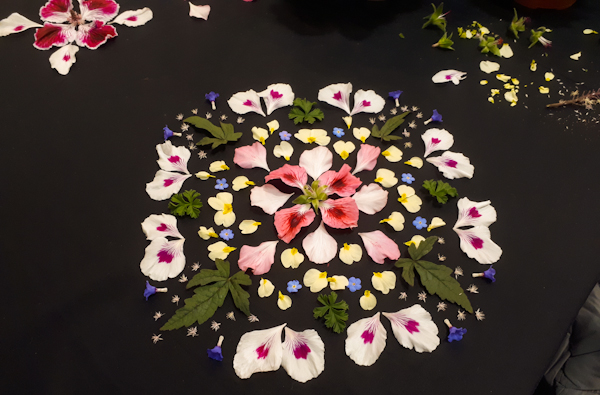 Time just ran away, even though the murmur around was like a fog in the whole hall, you could not hear it. Left inside the creator bubble were just the flower petals in front of you and the desire to put them in a beautiful pattern. Hanna circulated among us all the time (yes, I was no longer alone at the table in the stand, others had come without me noticing) and helped us if we had any questions or wanted any tips. But she constantly pointed out that there was no right or wrong way to do the exercise.
Finished Mandala pattern
When you had put your mandala pattern, she showed us how to photograph the creation with the mobile phone to save it for future projects. We were also told that there were different types of kaleidoscope apps that could be used to create new patterns and images.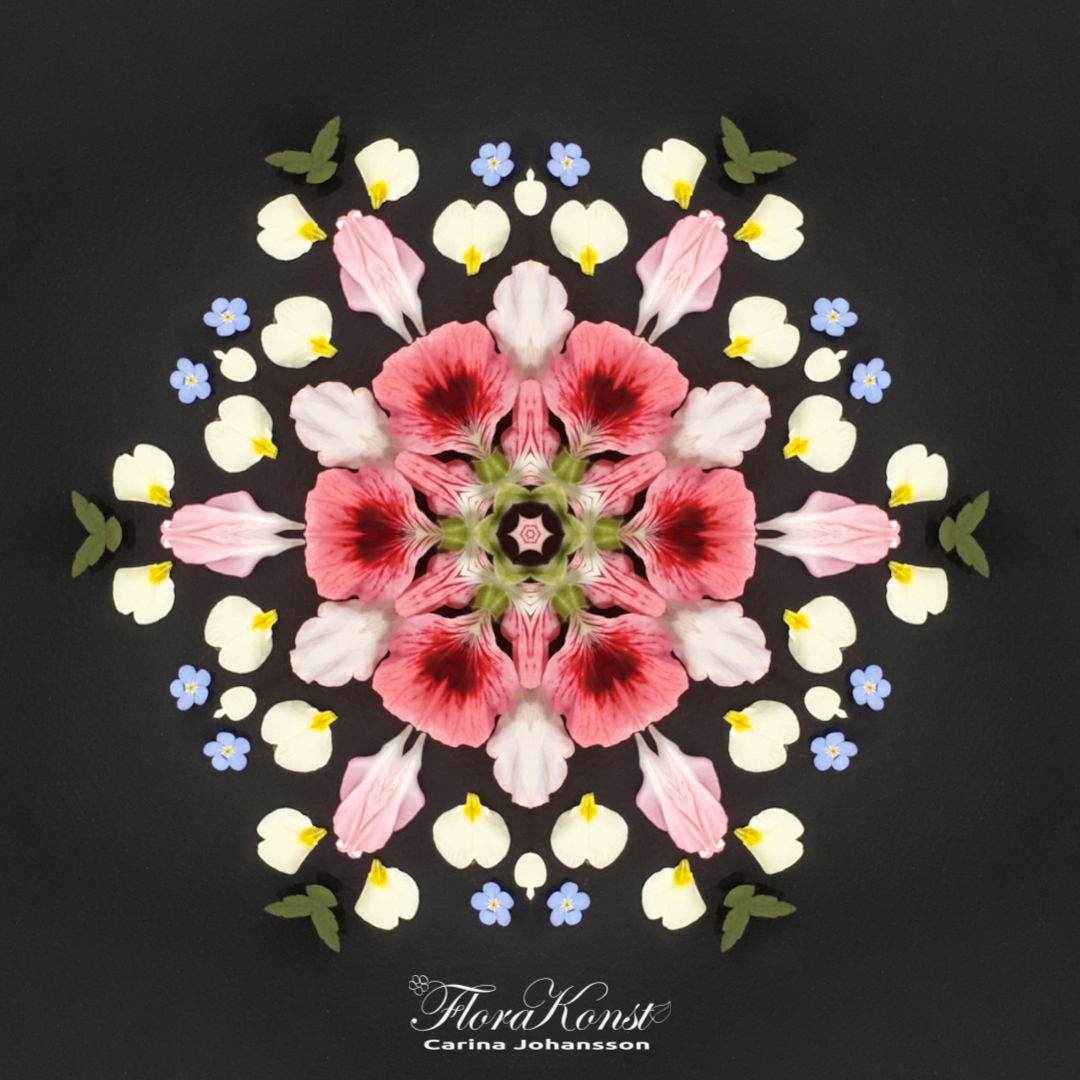 As a parenthesis, I can mention that with the tips about the kaleidoscope apps and what you can do with them, the evening was absolutely saved!
After a very pleasant day at the fair, we then went home with bags full of flowers, bulbs and garden tools.
And the jubilee?
Now you may be wondering why I started the post by talking about an anniversary?
Well, the reason is that the first seed for FloraKonst was sown right there and then at the fair during the chat with Hanna. Although I have always been very interested in flowers, photographed them, picked countless bouquets and started creating my mini bouquets, it was only on this day that the thought of being able to develop my interest into a livelihood was born …